Rental Yield for an Investment Property
Posted by:
Admin
Tags:
Posted date:
01-01-2020
What is a Good Rental Yield for an Investment Property?
When deciding to invest in property, the most vital thing to calculate is your rental yield. Whether you are an established landlord with a list of properties on your business portfolio or new to property investing, it is irrelevant. It is essential you calculate the rental return on all of your properties. These calculations are something that should never be overlooked and help you stay up to date.

Kent Property Witness offer RICS expert witness surveyor services for Tonbridge and Kent. We ask: What is a good rental yield for an investment property?

The income from your rental properties must cover all the running costs of the long term investment property. This calculation includes the purchase prices, all mortgage repayments, maintenance, wear and tear and any other expenditure from your lettings that you would otherwise incur.
Unless you plan for these costs, you might find yourself having to use monies from your contingency fund more often than you need to. If the income from your rental property investments falls below your outgoings, then you will lose money. If you are breaking even then, you are not making any profit either. If your income doesn't leave room for emergencies, then a problem with the roof or a broken boiler can put you seriously in a deficit.
Rental income yields is the percentage of return a property investor will receive from their rental income. The property rental yield will tell you how much profit you will make from your initial property value investment. Good rental yields are used so an investor can determine the potential property long term investment income from a buy to let investment.
Depending on the investor, good average rental yields can be assured for one year or more. The majority of investors will usually invest a lot of time in their research and pay a lot of attention to good average rental yields. There are different types of investors, some will search the world for the best rental yields, while other investors will only focus on properties with the best buy to let yield in the UK. Extensive research in different areas of a city or town is the best practice for investors looking for the best yield on property value investment.
Why is Rental Yield Significant?
Let's look at the importance of a good yield when you are considering buying investment properties. The main reason that many people decide to invest in property is to make money and enjoy their investment returns. If you want to generate a substantial return on your rental property, you must maximise your income. However, while good rental yields are significant, they are not the be-all and end-all purchasing a buy to let property.

If you are looking to invest in potential rental properties, then the best strategies for buy to let investments should combine an excellent rental yield with tenant demand and capital appreciation.
Let us say, for example, you purchase a potential rental property with an annual rental income yield of around 8%. While a high average rental yield is excellent, imagine if the property's postcode shows no future house price growth. The property might also struggle to drive demand, leaving you without paying tenants for lengthy periods. It is crucial to investigate demand and potential capital growth levels, or you won't feel the investment's full benefit, no matter how high the yield of the buy to let.
Rental yield will offer a useful overview of whether a property is likely to generate a profit on your investment. For example, suppose an apartment is costly to purchase, and the market is flooded with good rental properties that the average rent charged could be considerably lower. In that case, the property might not be a good profitable investment.

However, whilst you are free to invest in a buy to let property in a less affluent area, you cannot charge more than the market rent unless of course, the property warrants it. In order to maximise your property investment returns, look for buy to let properties in popular areas, for example, properties for students near to universities. It is a good idea to avoid older properties; they tend to have low energy performance, have high maintenance costs, and tend to be less popular for many tenants.
How to Calculate Your Rental Yield
There are several different investment methods to work out the best rental yields for an investment buy to let property value. The simplest way is to take the yearly rental income and divide it by purchasing prices and costs. Then you take that figure and multiply it by 100 to get a good rental yield percentage. If you purchased a buy to let for £200,000 and charge £10,000 per year in good rental fees for this, you would have a rental yield of around 5%. You can always use a rental yield calculator to work the correct figures for your rental returns.

What Is A Good Rental Yield?
So, what is a good rental yield for an investment property? Most property investors will aim for a good rental yield that's around the 5-8% level for a good investment. An excellent rental yield for investing in a buy to let property is 7% and above. Anything below 7% and there might not be enough cash-flow in the property to cover mortgage payments, maintenance running costs, and any unforeseen, expensive problems like boiler repairs, replacement windows, and roof repairs that sometimes crop up and are costly to put right when you invest in a property unless your loan to mortgage/value is lower than the average and you are lucky enough to have more cash flow in your buy to let investment property.

What Costs Should a Rental Income Cover?
To sustain over a long term period of time, your property rental income needs to cover all the property's running costs. It is crucial that you have a reasonable contingency budget for any emergencies or eventualities. You should always plan ahead for the unexpected and be prepared for your costs to increase without prior warning.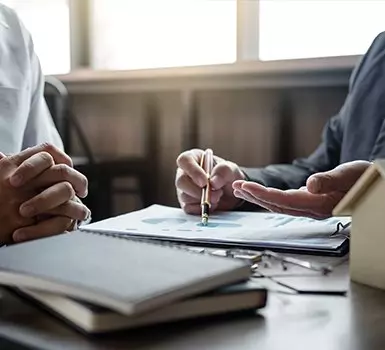 For example, interest rates on mortgages are at present historically low at the moment. When eventually, the cost of lending returns to more normal levels, investors left holding property with low rental yields. For example, under 5% could find themselves in a lot of financial trouble.
Mortgage payments are only one of many costs for landlords and property investors. Your monthly rent return should cover buy to let landlord insurance, management fees and maintenance costs, bear in mind all these costs can fluctuate.
Costs and outgoings can, of course, go down, but planning ahead for when the inevitable happens and they increase should be taken into account. A house has a roof, and a boiler, both of these can suddenly need replacing or fixing without warning and at very significant expense.

There are times when your investment property can be without tenants. Therefore, you can go for several weeks without any rent being paid. Something else to consider for your contingency plan is the unfortunate event that your tenants leave your property in a disrepair state. It has been noted widely that some tenants have ruined homes, destroying bathrooms and kitchens. All this can cost a great deal of money to the landlord to put right and not be able to let the property for several weeks while all the repairs are completed. Some eventualities can be covered by your landlords buy to let insurance, but not all. It is always better to air on the side of caution and have a good contingency plan for unexpected costs.
What are the average rental yields in the UK?
As a rule of thumb, the average UK rental yield sits at approximately 3.53%. Therefore anything over and above that amount can be considered as overperforming. Good rental yields can be different from postcode to postcode, so it's imperative to keep researching investment locations to see which areas can offer the best rental yields for your investment. For example, property values and potential profit can differ significantly from London to Liverpool, Manchester and the North West.
What Makes A Good Buy To Let Investment?
Whilst a good rental return is significant when choosing a buy to let investment property, there are other elements that you will need to consider as an investor. For example, although it is of significant importance that the good rental yield is high enough to cover all your costs, that doesn't mean that you should necessarily aim for the highest possible return on your investment.
Smart buy to let investors will look for affordable properties in areas and locations where demand will grow over time. As a buy to let property investor, it is best practice to research different areas and properties to make sure you get the most from your investment.

---
If you want to know: What is a good rental yield for an investment property? Then there is a good chance that you are looking to invest in a commercial property. If you are looking for commercial property valuation in Tonbridge, Kent and the surrounding areas, our RICS expert witness can help.